Joslin PTA 
Did you know? Joslin PTA is the 2022-2023 AISD PTA of the Year!!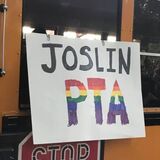 At Joslin Elementary, we aim for success for every student. When you become a member of the Joslin PTA, your membership fee is used to support the association's initiaves to enhance teaching, create learning opportunities and support family engagement at Joslin. Whether you are a parent, grandparent, educator, or community member, our PTA invites you to help make an impact in the lives of our Jaguars. 
What Does PTA Do?
helps you keep up with events at your school as well as happenings at the local, state and national PTA levels. 
provides free resources and programs, including parent education.
advocates for better education and health for all children, nationwide.
builds a community between home, family and school.
preserves the school's history